A practical, automatic, and simple calculator to convert from Joules to Volts.
Joules to Volts conversion formula: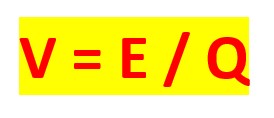 Volts: The volt is a measurement unit derived from voltage, electric potential difference, or both.
Joule: Its sign is J, and it denotes unit for an energy.
Coulomb: It is the unit of electric charge (Q).
The voltage V in volts (V) is obtained by dividing the energy E in joules (J) by the charge Q in coulombs (C):